July 10th, 2008 Posted in
Selling Online

Print This Post

Email This Post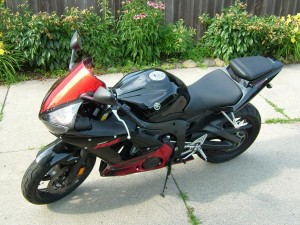 It's been over 4 years since I bought my motorcycle, a 2003 Yamaha YFZ-R6 Limited Edition, and I am sad to say it's time for me to let it go. It's given me a lot of good times and a couple bad ones. I put a lot of time and money into my R6 and have gotten a lot of enjoyment in return; however, all good things must eventually come to an end. But enough about my memoirs of my R6; the more important thing here is how would someone go about selling a motorcycle or vehicle in the day and time? As you may remember from 10 Things Worth Trying Electronically, I have decided to use Craigslist as my means to selling my R6 and will share the process of doing so, including some extras that make the selling experience a little better.
Posting to The Craigslist Classifieds
There are two options when it comes to posting on Craigslist:
Apply for an Account, then Post to the classifieds
Post without an Account (link to Buffalo Craigslist Post)
I personally recommend applying for an account, this way it makes it much easier to post things in the future; in addition, you can see all the items you have posted on Craigslist in your account page.
Additional Tips to Know About Posting
These are just some extras that I do while selling on Craigslist.
HTML
Craigslist allows for some basic HTML tags; therefore, you can differentiate yourself from people by using HTML to create a nice looking classified ad. Craigslist allows headers, lists, images, links, tables, formatted text to name a few. For the complete list of allowed HTML, please visit Craigslist Help.
External Web Page
I prefer creating an external website that I can track some statistics on. Within my Craigslist classified ad, I link back to my 2003 Yamaha YZF-R6 For Sale page on verITableLIFE. When people click on my link from Craigslist, I can track that by looking at the Landing Page statistic.
E-Mail Address
In addition to my external web page, I like to create additional e-mail accounts to avoid clutter in my personal e-mail inbox: on my 2003 Yamaha YZF-R6 For Sale page, you will notice the e-mail address r6 [at] verITableLIFE.com.
Wait for the Offers to Come In
After all this is done, you just have to sit back and wait for the sale. I tend not to jump on first offers if they are lower than what I anticipated. So while you are patiently waiting for potential buyers, try a few more things from my list of 10 things to try electronically.